The proprietors of Carleton Avenue Grocery believe in a great tasting food - and they have food allergies! Always cooking up something scrumptious in the kitchenette at the store, here is where they will share their best creations to date.
Peanut Butter Chocolate Chip Cookies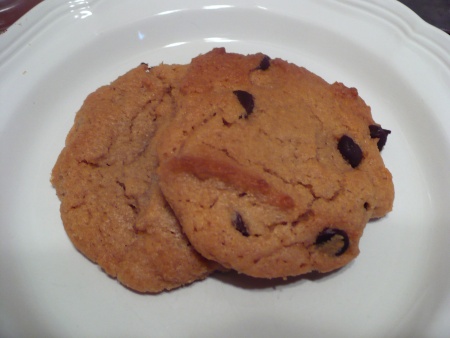 Main Ingredients:
1 c. creamy peanut butter
1 c. sugar
1 egg
1 egg white
1/2 c. chocolate chips

Yield: 15 – 20 cookies
Instructions:

1. In a large mixing bowl, combine the peanut butter, sugar, and eggs. Stir until the eggs are thoroughly combined with the other ingredients.

2. Stir in the chocolate chips.

3. Refrigerate the cookie dough for 15 minutes. Turn the oven to 350 degrees F to preheat.

4. Scoop the chilled cookie dough into small balls using a normal eating-sized spoon. Place the cookie dough balls onto a baking sheet about 2 inches apart from each other.

5. Bake cookies at 350 degrees for around 15 minutes. You want to take them out once the tops are getting brown. The cookies may still seem a bit soft at this point, but they will harden as they cool.

6. Let the cookies cool for 10 – 15 minutes and then serve with a glass of cold (soy) milk!
Open 7 days a week!

WEEKDAYS: 9:00am - 8:00pm

SATURDAY: 11:00am - 6:00pm

SUNDAY: 1:00pm - 6:00pm

We are located at 6601 Carleton Ave South, at the corner of Carleton and Warsaw in Georgetown (Seattle, WA). If you live in the neighborhood, we are a bike ride or walk away.

We love our local community, a truly historic neighborhood of Seattle. Read more about our historical efforts in Georgetown, and what's happening nearby.